Hey Bruce and folks, found a "little" something on craigslist that's going to make my life a lot easier in the future (when paired with a few more things, that is).
Got this "little" guy for $50: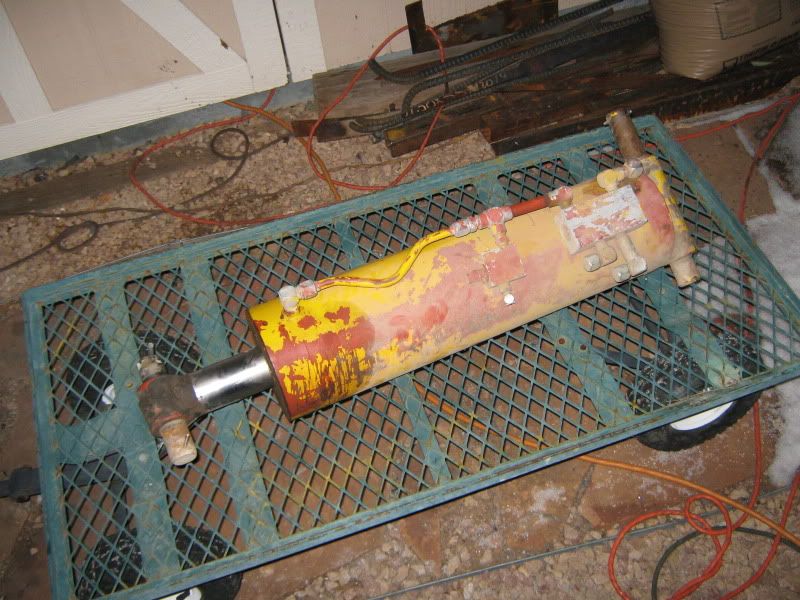 Its a 6" bore, ~20"-24" stroke, double acting hydraulic cylinder. Weighs about 200 lb(?) (it would have cost about $80 at the scrapyard here, so $50 is a great buy). Ram is just a hair under 3". I'll probably be going H-frame, so the slightly smaller ram diameter won't be any issue (c-frame's like bigger rams, since they can develop a little side loading due to some frame flex, which can cause ram failure in smaller diameter units).
Shaves about $1000 off my press build budget. A new 6" bore cylinder like this seems to go for about $750, plus $250 frieght costs.
This guy should make about 35 tons at 2500 psi, or 42 at 3000 psi, and I plan on giving it a pretty quick stroke. It should make for a really nice press, all said and done.
Can't really do too much with it until I get setup in a new shop, probably 6 months from now. But in the mean time I'll be accumulating the other primary compoenents I'll need, so that as soon as I get moved, I'll be able to grab the frame materials and have at it.
Maybe there'll be a "Hydraulic Press WIP" thread when the build time comes.
Anyway, thought I'd share (plus Dana told me to
).