Im not really new here, just been a while.
I lost my password, and my recovery email account no longer exists.
Its me Black cat! XD
Anyway... I sketched a picture of a burner in a forge wall because I can never find any pictures of this.
I want to make sure its
2 inch thick kaowool
1/4 inch refractory motar
Burner nozzle is 3 inches total with a two inch flare.
The picture shows a wooden cone plug to shape the kaowool and mortor around the inner lip of the burner support.
The burner support only goes 1 inch into the two inches of kaowool.
The burner flare is set 1 inch back into the kaowool funnel almost flush with the burner support.
There is atmospheric air flow between the burner nozzle and the burner support tube.
Hopefully this all looks correct...
Please let me know if there should be adjustments.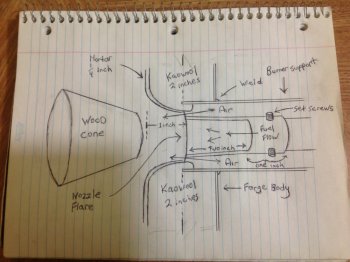 Last edited: