Okay, so I'm new to the forum and haven't had much activity here. I thought I'd post one of my most recent pieces. Overall, I'm new to the industry and have only been doing this part time of part time as a hobby....meaning probably about 5hrs a week if I'm lucky. I've only really completed maybe 10 knives from stock removal and 10 more handles on blanks.
I've never actually posted anything I've done in a forum as the quality here is amazing.
This piece is a 440c traditional fixed blade piece. I had Peter's HT do the treating but did all the rest myself with stock removal. The handle is an inlaced acrylester with brass furnishings (obviously). The stone is an onyx with gold webbing. I also made the sheath as a cross draw/concealable design and stitched it all by hand. The etching was personalized for the customer with my mark on the opposite side.
(Bolster pins aren't great but hey.... I'm still learning, right?!?!?!)
Hoping I get the upload process right here.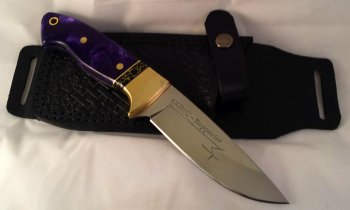 Last edited: