Well, I was looking at the 2012 Bowie contest and just knew I would have to give one a try. I have done mostly smaller knives and this one, although not big by Bowie standards (probably not even medium) is by far the largest I have attempted. I decided to do it with a leaf spring so I wouldn't waste steel if I bit off more than I could handle (no pun intended). Also because it was free. So Here it is ready to be cut out. The tang is longer than necessary and will be cut back when I decide what to do for a handle. It is just over 1/4 inch thick and just over 12 inches long. With the Blade a little under 7 inches.
Cut out and cleaned up.
and rough grind nearly complete. I had to remove the rest from my sander and do it all freehand because of the step I put on the spine.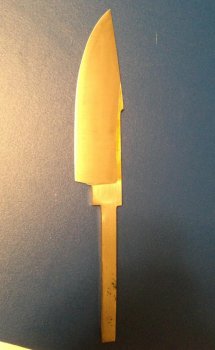 I will swedge the front half and file the rest of the spine tomorrow.
Any criticism or suggestions are welcome.
Last edited: