KCB77
German Army knife/bayonet w/ Bowie style blade, saw and wire cutter slot.
Manufacturer- These are
authentic
KCB77 blades manufactured by Eickhorn Solingen, Germany (stamped with Eikhorn's squirrel logo) that were never finished with handles or scabbards.
Dimensions:
Blade length- 7"'
Blade Width- 1.18"
Blade Thickness- .14"
Tang Length- 3.2"
Tang hole diameter- .27
Steel Type- 55Si7
Condition- These blades are ground, heat treated (hardened and tempered), stamped with Eikhorn squirrel logo and but were not coated/parkerized.
As shown in the photo I received them rusty but ZERO PITTING.

5 HOURS OF SPECIAL CLEANING REVEALS A BEAUTIFUL BLADE WITH A DEEP PATINA.
NO ABRASIVES, NO HEAT, NO DAMAGE DURING CLEANING
The blades do need to be sharpened as the edges have not been ground on them. They have been shipped halfway around the world and stored away since the early '80s in crates.
History- KCB stands for "Knife-Cutter-Bayonet". This model was first developed in the late '60's by Eikhorn as a multipurpose bayonet-knife with a wire cutter similar to the Soviet AKM bayonet (SABC Journal). Several different variant have been produced over the years and used by various military groups around the world.
These are most definitely something to buy, finish, and cherish.
Price is $26.00 per blade. Shipping is $10 any amount. PM if interested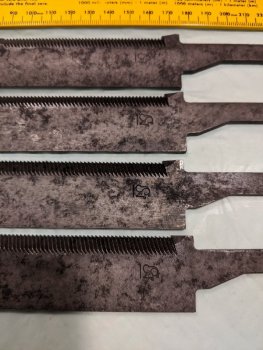 Last edited: