Hi Everyone
I was lucky enough to spend the morning yesterday in his engineering workshop with one of the guys from my knifeclub, he made up a stub axle for the "contact wheel", finished the drive shaft off by cutting the keyways, and made some end caps for the stub axles.
I was able to use one of the Bridgeport milling machines to drill and precision ream the toolarm for the contact wheel stub axle. It was a pleasure to use equipment so precise, compared to a small home drill press I have been working with till now.
I originally tried making the contact wheel toolarm during the past week however since my small drill press is not capable of drilling holes larger than 12mm, I was forced to used the 20mm holesaw, Unfortunately it was not able to go all the way through the 38mm aluminium, getting about halfway through, before getting bogged down and stopping, using the Bridgeport was an absolute pleasure - if only I had the budget and shop space to accomodate one.
I am finished with the platten work surface, and am currently putting together an adjustable work rest for the platten. I still need to source a short drive belt and will then fit the motor and VFD (need to find an enclosure for the VFD), and will have to make some adjustments to the tracking wheel assembly, unfortunately it doesn't have enough movement in one direction, so i need to insert spacers or re-make the tracking mount, as well as extending the length of the tracking wheel stub axle to get the tracking wheel centered with the contact and drive wheels.
Bye for now
Cheers
Rick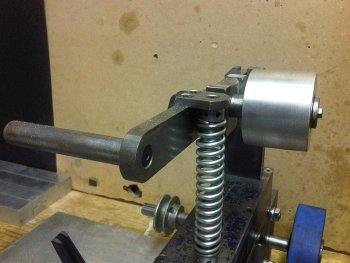 Last edited: