Hey Dogs
Here is my second completed knife. I like the blade but think I my change the handle a bit to incorporate a striker end. First time using this color G10 so I really didn't know what to expect.
SPECS:
Steel: CPM 154CM HRC 60-61
Pins: 416 SS
Thong hole tube: Nickel Silver
OAL: ~11.5"
Blade Length: 6.5"
Thickness: .277" (she's thick but tough)
Weight: 302 Grams (10.65 oz)
Handle material: Green G10
Sheath: Concealex with small Tek-loc clip (when I find time)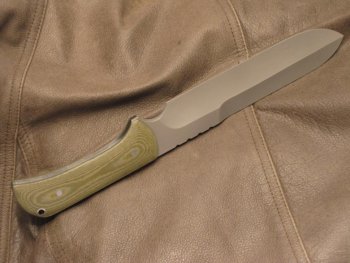 Thanks for looking and let me know what you think!
~Eric