Marco posted a draw on frenchbaliconnexion about a prodigy live blade. He asked me if i could made all the part of the work after the waterjet cut. He did it cut by a firm in belgium for two blade in xc75.
The waterjet cut wasn't really clean, i cleaned everything, grinded the blade, heat treat it (differential oil hardening and full quench for the second and tempering to 200°c.)
I did a third blade with 90MCV8 but i cleaned it too much and decreased the thickness to 3.6. The original blade is 3.96 and the gap is too important. That is not a problem i will keep that blade to make a template. I Will recut the tang and will have a nice template
The two blade in xc75 are 3.91 mm the 0.5mm don't seem to be a too big problem for the bushing.
All the blade are with a convex sharpening because i'm not able to make a nice straight second bevel on that sort of grind
xc75 differential hardening (waterjet cut)
Mine in 90MCV8 a bit too thin.
XC75 full quench (waterjet cut)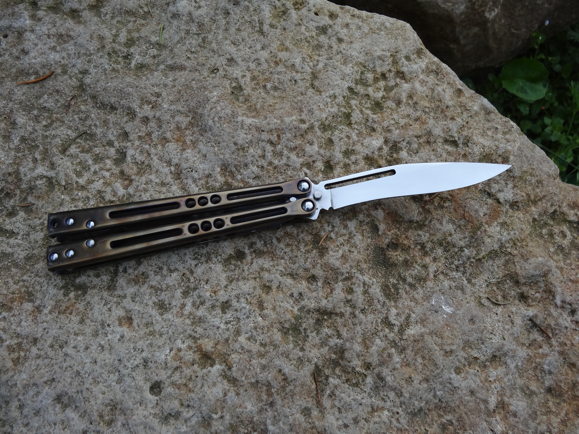 Familly