I wrote this, this morning and thought I had posted it. When I came back to see replies, there was none. Evidently I never posted it!!
De de de, you are now entering the twilight zone, were we find C Craft, just following along behind the little animals!!
Now back to the question at hand..................…
Have any of y'all ever bought the turning blocks you see on eBay?? They are basically for those wanting to turn a wooden bowl.
So I am wondering if you bought those turning blocks. I saw one ironwood block for 6 x6 x 3 #15. Not sure what the #15 means. It could be just the number given to the block or maybe the grade!!
That is way cheaper than buying what is normally sold as block-size handle material. So please excuse the very crude drawing. I need a drawing program!!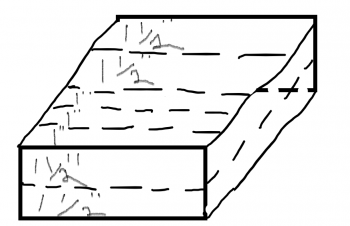 This block was 3" tall by 6" x 6". You could easily end up with 10 handle sized pieces, depending what you want/need for your handle material! So I can't be the first guy to think of this. Has someone else tried it? What would be the pitfalls of such a process other than, you can't see what you are going to end up with till you cut up the block??