I had a fellow who is a combat medic with the Antiterrorism Assistance Program request a knife from me. He gave me some basic parameters like blade length and what kind of uses were intended and then gave me pretty free hand with the rest. What we ended up with was a Benghazi Warfighter about an inch shorter than usual at a 5 1/2" blade.
Of course, when I find something that works I tend to stick with it, so I forged it from 1/4" thick 80CrV2 steel and built the handles from black Tero Tuf with flared stainless steel tubing rivets.
He wanted to be able to swap between wearing it on his belt and carrying it on a plate carrier MOLLE vest. So I set up a modular carry rig for him. Kydex sheath, MOLLE locks, and a removable Kydex piece I made with a Combat Look attached for belt carry. Want to go from belt to MOLLE carry? Just pop open the MOLLE locks, stow the modular belt piece, and attach the sheath to the vest with the MOLLE locks. The belt carry height is adjustable by moving the Combat Loop up or down on the modular belt piece.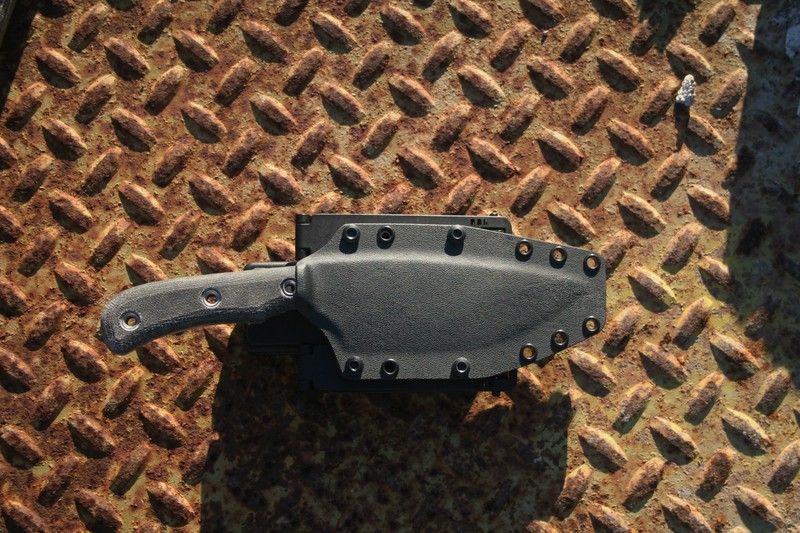 And his comment: "The blade feels great, that space between the handle and blade, choil area is perfect. I feel like I designed it and I didn't! The handle material is comfy, yet grippy just like you said and the sheath is fantastic. It's definitely going with my first line gear."
Always glad to have a happy customer.