Feels like its been forever since I finished a knife and boy does it feel good. Just got done with this one tonight. Orange G10 hunter hollow ground to a mirror shine. Should make for a great hunting knife that is hard to lose
OAL = 9.25"
Blade = 5.25" (4'' cutting edge)
Handle = orange G10 (4")
Steel = CPM 154CM mirror finish
Hardware = 416 SS pins Nickel/Silver Thong Hole Tube
Weight = 7.9 oz
Sheath = Orange Kydex with small TekLok
It is up for sale on the for sale forum.
Thanks for looking and all comments are welcome!
~EP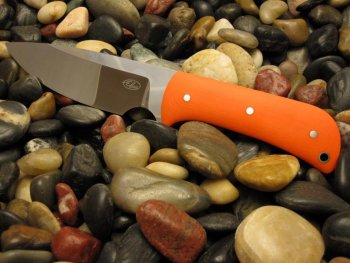 Last edited: