ETA: Our winner for my first GAW is, Post #24-Archer Moon, please contact me with your info bud.
ETA: A couple lanyards are being stuffed in the box as I type. Courtesy of Brian AKA Frstr8!!!!! Thanks, B!!!!
ETA: Found a nice 1.5" x 2.5" x 5" piece of Burl and I will go ahead and throw in a 3/16" x 2" x 8.5" of 0-1. I just got a lot of this 0-1 in from Aldo and would be a great steel for a newb! I will also throw in a little bit of pin material......so now this is turning into a build a blade and have some material left kind of GAW!!!
Ok, dogs!
Its time for another small GAW. Its not much but its free....;-) I would hope newbs would get in on this, would be a great little handle package to get started with. I will try and fill the box with another item if I can find one to fit. This will be going in a small flat rate box.
All you have to do is post KD Rules and your in. Your post number will be your entry #. Only post once to the thread to make it easy on my follow up
We will run this until next Fri the 21st of May. At that time I will just have my daughter pick a number out of my hat and call it!
1 beefy chunk of Jims AKA JatMats G-11
1/4" x 2.5" x 4" Butch Harners Smashed Hippie Micarta I was able to get a set of scales out of the other chunk!!
1/4" x 1.5" x 5" set of Ivory Paper Micarta ( 1 set)
1/4" x 4" x 5" chunk of Black Linen Micarta
1 set of Dymondwood scales
1 set Mystery Wood scales?
Thanks Dogs.
Now get after it2thumbs
Chris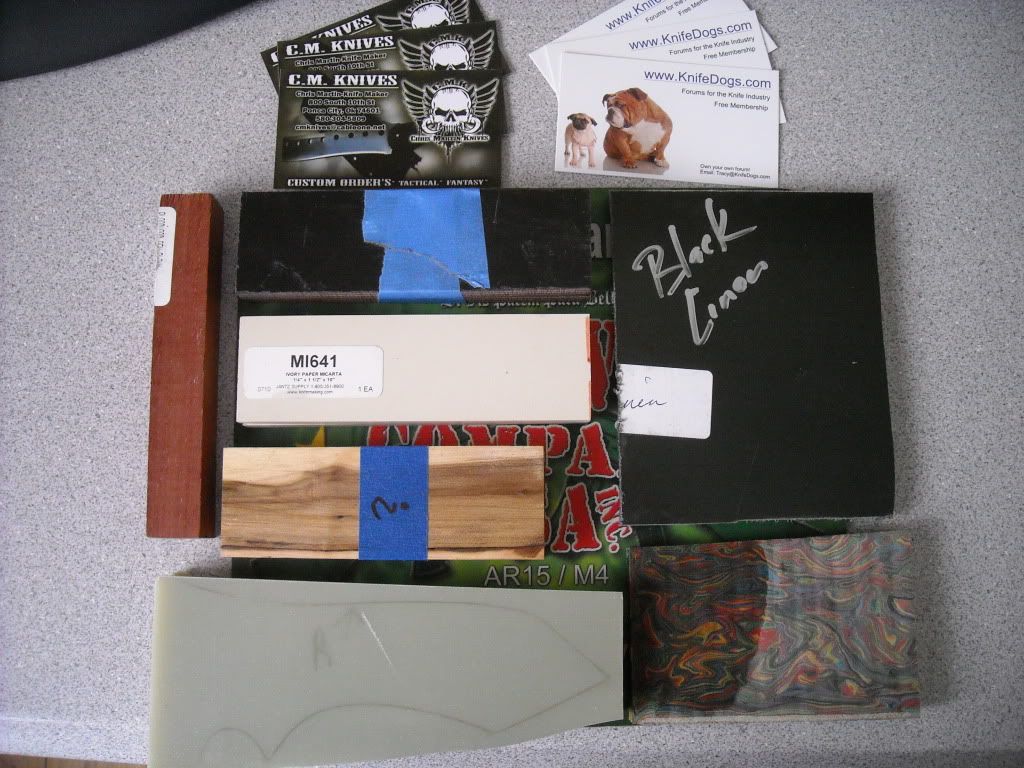 Last edited: